Flight Data Visualization
Flight data visualization (FDV) is a tool set for simulating a vehicle's flight in both a two and three dimensional space. Allowing easy interpretation of a flight in real-time from a local or remote location. The flight information is stored for later re-play for analysis and record.

A 3D flight data visualization system is highly useful for vehicles such as unmanned aerial vehicles (UAV) (also referred to as remote controlled aerial vehicles), RC airplanes and general aviation vehicles.

We have been building and operating a FDV systems as early as 2002-03, allowing us to remotely monitor and control very small modified radio controlled airplanes. The latest FDV systems provided a short range live video stream from the airplane along with a 20 mile wireless telemetry link for onboard sensor data for both 3D and 2D rendering of the airplane over a satellite terrain image. The telemetry link also provides long range airplane control via "tunneling" the radio control data over the telemetry link.

For more on field test flights, see the field test pages.


Navigation Sensors and Software
The FDV and UAV airplane navigation system consists of a GPS receiver providing position, heading, speed, and elevation. A 2-axis digital compass provides yaw. Accelerometers, gyros or infrared sensors provide pitch and roll. A pressure sensor provides additional elevation information. A 20 mile telemetry link provides the navigation data feed to the control center software. A Wireless camera provides a short range video stream. The control center software package displays:
Live streaming video
3D model representation of airplane over a satellite terrain map
2D map showing current expedition path
Airplane instrument panel



RC Airplane onboard navigation system:
First prototype using custom and OEM hardware: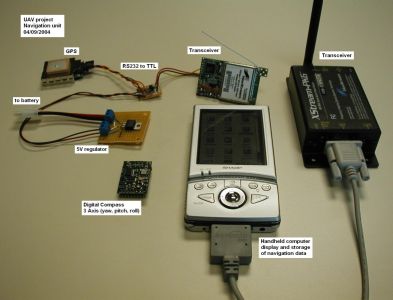 Full size picture here